Photo-optical surveying & mobile Data acquisition
Example of a result that you can achieve in a few seconds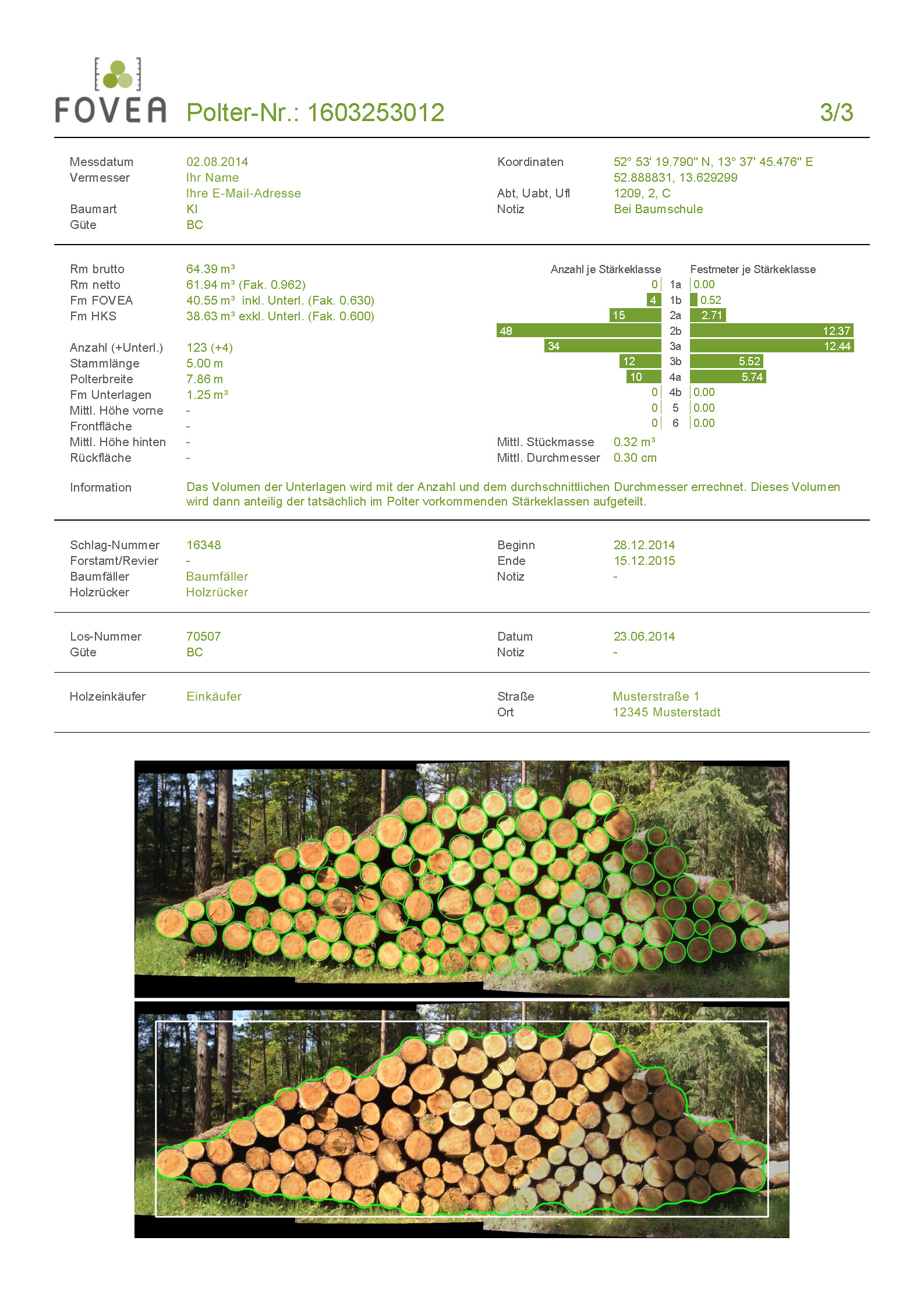 Left All log stacks with number and coordinates of plot.
Right Every single log stack with picture and data.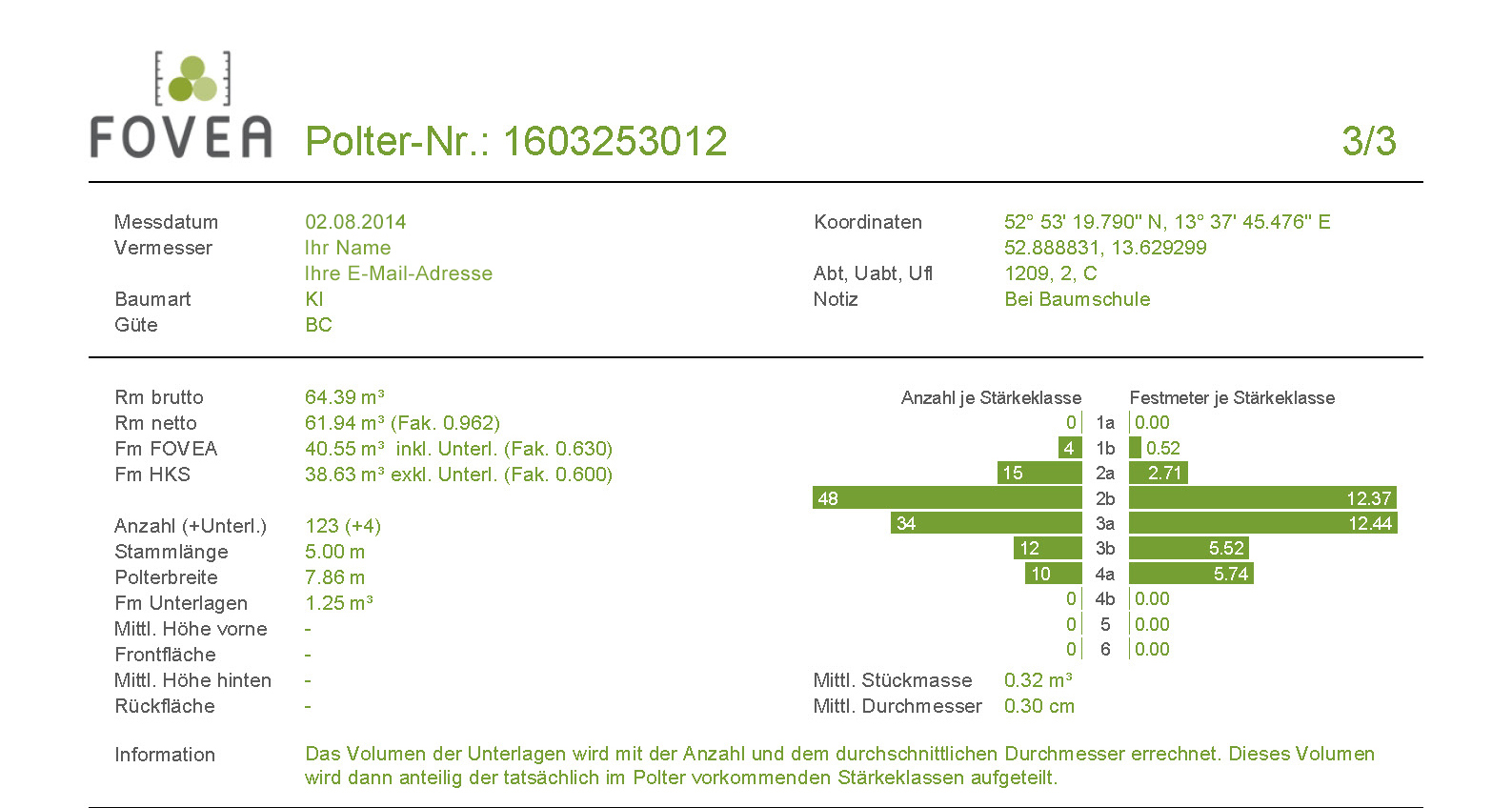 In the first section you will find the data of the measuring person and the coordinates.
In the second section is the calculated volume by different methods of measurement, the front surface measuring with calipers with distribution of strength classes and the piece of ground, section size determination and different facts for determination of solid measure listed.

In the third section you will find more data of the felling (Contractor, Woodcutter, date, number of felling) and the plots with quality und wood buyer.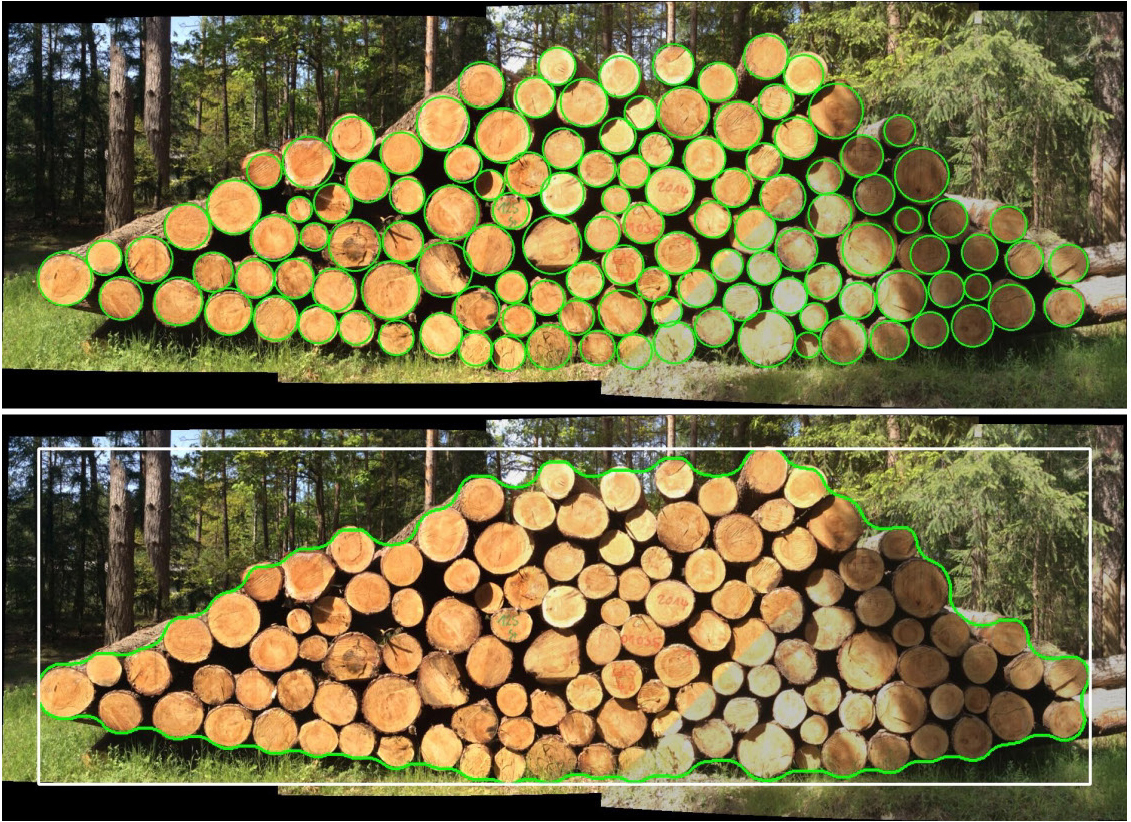 In the fourth section are the pictures, on which you can see the front surface measuring with calipers and the section size. Furthermore are displayed the maximum width and height.
The iFOVEA Calculating app you get via kontakt(at)fovea.eu. Use our Call Back Service and write an email including your phone number.

iFOVEA COUNTER APP
How to charge your volume:
Increase your volume via Order Form to kontakt(at)fovea.eu or post or use the website of Grube.
Functions of the App
• iFOVEA Counter makes it possible to determine the number of logs in a log stack in a few seconds.
• Count 1.000 logs in 3 minutes automatically
• Immediate display of the GPS data of the log stack and the measurement results
• Export function as a picture
• Available in Germany, Austria, Switzerland, Australia, Newzealand, Poland und Czechia.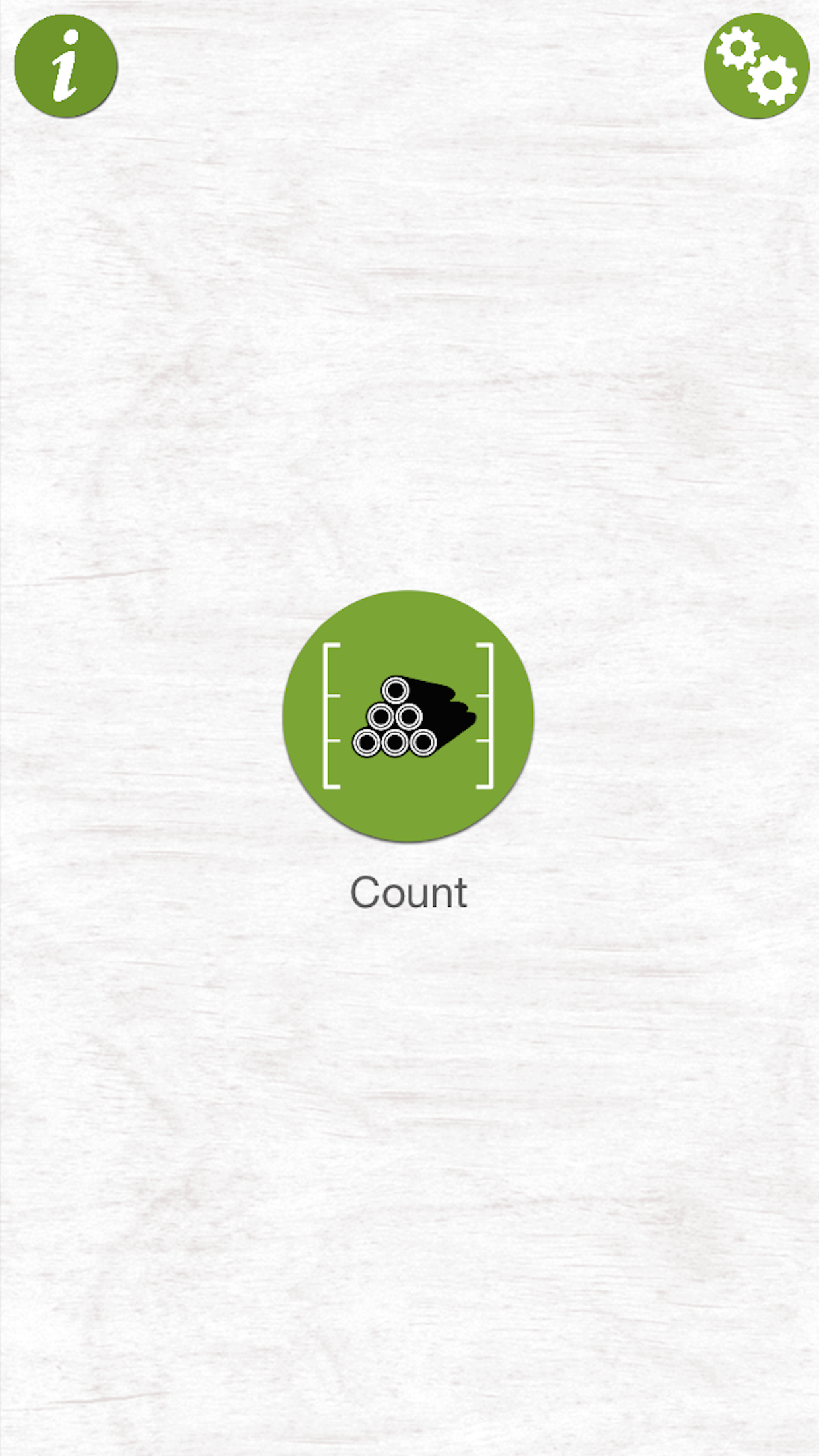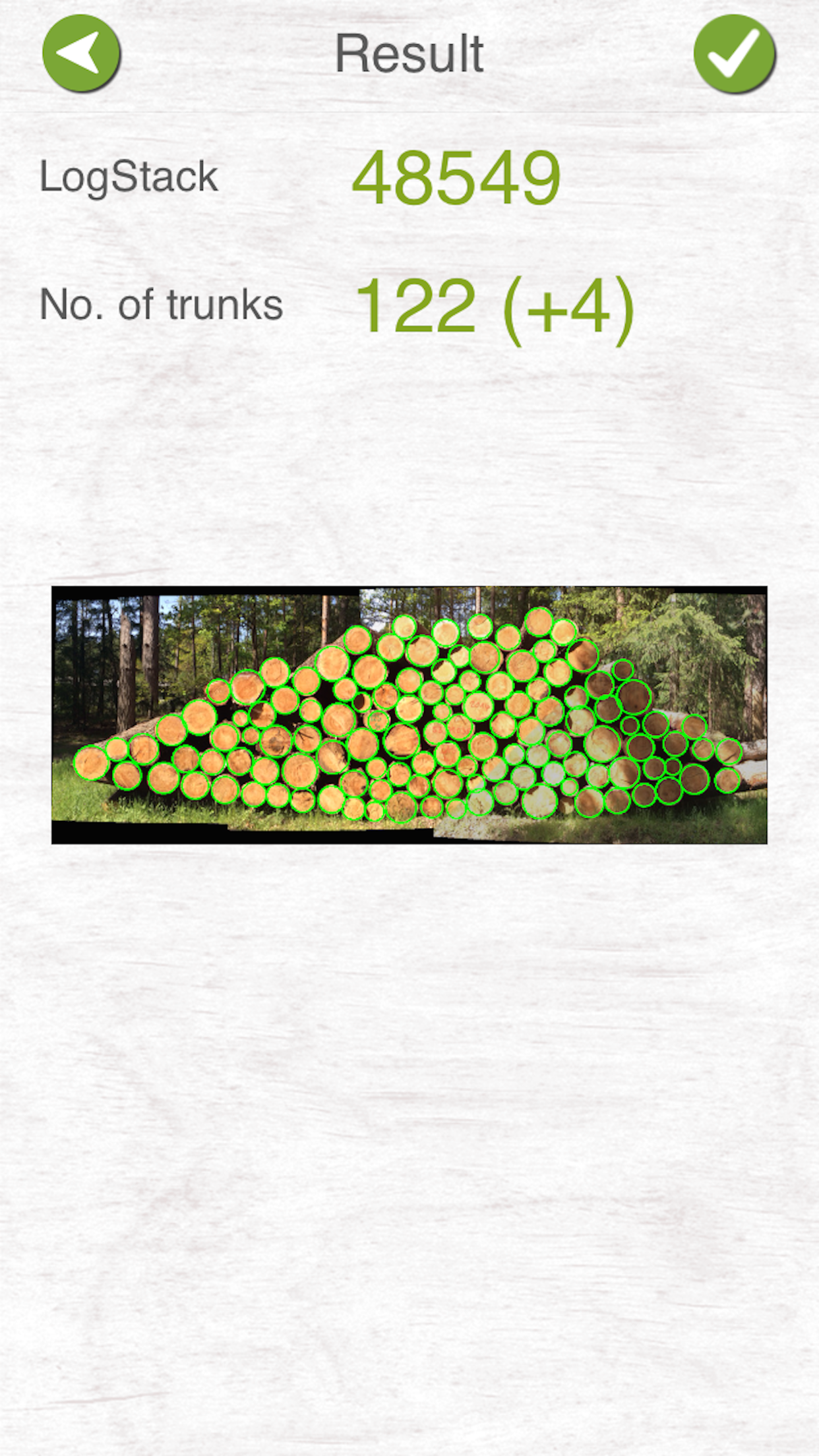 Which devices do you need?

• Recommendation: iPhone 5s, iPad mini Retina Wifi+Cellular or iPad Air Wifi+Cellular
• Minimum: iPhone 5, iPad Mini Retina Wifi or iPad Retina with iOS 7


Which wood can you count?

• Optimized for sawable wood: Automatic detection of about 99%.
• In industrial wood automatic detection is below 99%.
• The logs should be as fresh as possible and clearly visible (free of vegetation, if possible rumbled on underlays).


Usage

• Photographing the Holzpolter according to specifications with iFOVEA Counter.
• Single images are combined to form an overall picture and the strains are highlighted.
• Then the image is saved with geographical coordinates, number of logs and text under the photos.
• The manual is integrated into the application, you will find it on the button on the top left of the display.



The iFOVEA Counter App is available in iTunes.

WALDINVENT & WALDINVENT PRO
After the award-winning apps iFOVEA for photo-optical wood measurement and Käferkunde the FOVEA UG published with Waldinvent another app for smartphones that help by valueyng the basal area of forest per hectare.
The app is using a live image, so that handling in a few steps is intuitive. The results are visible within a few seconds.

KÄFERKUNDE
Käferkunde is an app that allows to learn, look up, determine or show beetles.
Worldwide there are over 350,000 different species of beetle. While we hardly notice them, must forester, for example, can assign a lot of them properly. Käferkunde may facilitate their learning and save their time for creating index cards. The app awakens joy of learning – no matter where you happen to be.
With the Käferkunde app beetles can be learned and looked up quickly and easily. It includes also a filter function based on their characteristics (size, color etc.) with which the beetles can easily determined. On an integrated interactive map all users can enter their sightings beetles per photo function and GPS, and thus show others, which beetles they were able to correctly allocate.
The design of Käferkunde was awarded with the Red Dot Junior Award in 2013.